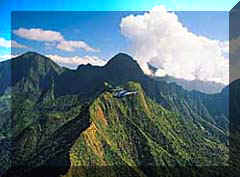 Blue Hawaiian Helicopters,
the most professional helicopter company on the island
Hana - Haleakala, 45 min.flight
$ 319.00 including tax
Covers the most requested points of interest: Haleakala Crater, Oheo Gulch (often mistakenly referred to as Seven Pools), Hana Town, Hana rainforest and the rugged shorelines of Northeast Maui.
Complete Island Tour, 80 min. flight, 20 min. refreshment stop


$ 399.00 including tax

Combine our West Maui and Hana/Haleakala tours. This detailed tour of the entire island begins with a 35-minute flight exploration of the most magnificent West Maui valleys before landing at our scenic and exclusive remote landing site at Ulupalakua ranch, on the slopes of Haleakala. Refreshments are served while you enjoy the breathtaking scenery and pastoral setting for approximately 20 minutes. The flight then continues for a 45-minute exploration of East Maui, including Hana and Haleakala.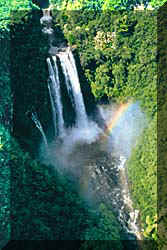 West Maui / Molokai, 45 min. flight
$ 319.00 including tax
Our West Maui tour is combined with a flight across the Pailolo channel to the "Friendly Isle". Molokai has the world's highest, most spectacular sea cliffs, Hawaii's tallest waterfall, awesome valleys and the famous Kalaupapa peninsula.
West Maui, 30 min. flight
$ 240.00 including tax
Explore deep, meandering valleys set in the rainforest of the ancient West Maui mountains. Knife-edged ridges with mist-shrouded peaks separate the spectacular valleys which give Maui its nickname: "The Valley Isle." Waterfalls cascade down towering cliffs into the streams running along the forest floor.

Big Island-Waikaloa
Big Island Spectacular, two hour event $ 599.00 including tax
Kohala Coast Adventure, 45 min. flight $ 309.00 including tax

Big Island - Hilo
Circle of Fire/Waterfalls, 45 min. flight $ 309.00 including tax
Kaua'i
Kaua'i Eco Adventure, 50 min. flight
$ 289.00 including taxes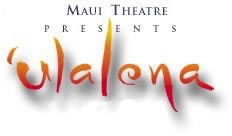 ULALENA
Don't miss the opportunity to see this wonderful show in Lahaina.
It is a brilliant peace of art and theatre.
You will be mesmerized by the choreography and music, the Hawai'ian history and spirit.
I watched this show at least 5 times and I will never get tired of it. My promise is that you will take something home in your heart and be connected to the islands for ever.
Children will enjoy this show as much as adults.
Call us for reservation at: 1-800 398-6284 begin_of_the_skype_highlighting 1-800 398-6284 end_of_the_skype_highlighting or e-mail: margit@hookipa.com
Standard Seating Retail Rates
• Tickets adult $69.99-114.99 + tax.
Children are seated for free (ages 3-5)
Lap Children are free (no seat required ages 0-2)
• Standard Seating for children, ages 3-12 yrs $24.50 + tax.
Premium Seating Retail Rates
• Premium Seating adult $69.50 + tax.
• Premium Seating for children, ages 3-12 yrs $34.50 + tax.
Each Island offers many cultural events
Check out the local news papers
Enjoy public events and learn about the Hawai'ian Culture and Life Style
ON MAUI, please call us for any information (808) 579-8282 begin_of_the_skype_highlighting (808) 579-8282 end_of_the_skype_highlighting
We will continue our preferred activity vendor list soon